MEMS Processing
SLM is pleased to offer MEMS processing and packaging services. We can also provide technical consulting services to assist clients with issues related to manufacturing and implementation of MEMS devices. Our team, equipment and facilities can help to provide rapid, focused solutions to difficult MEMS manufacturing issues and can subsequently help to ramp your MEMS device to moderate production volumes.
Through the last 20 years of building GLV's, the SLM team has developed robust processes and the know-how required in the areas of MEMS processing and packaging.
Our state-of-the-art Class 10 raised floor clean room houses our MEMS manufacturing tools. Other typical assembly operations needed to integrate our GLV die into our final module such as wafer dicing, wire bonding, and automated die attach are subcontracted to key qualified suppliers.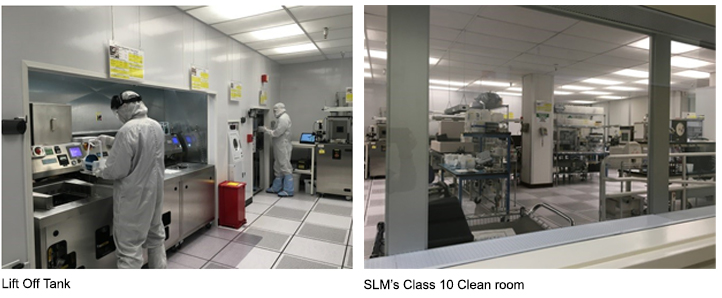 SLM can provide MEMS manufacturing tools and processes include:
Wafer resist liftoff processing
Megasonics wet processing baths
Quick dump DI water rinsing
Spin rinse dryers
Wafer solvent tool cleaning
Plasma etching
XeF2 MEMS release
Manual die bonding
High vacuum wafer brazing
Vacuum ovens
Reliability testing

Highly accelerated temperature and humidity stress testing (HAST)
Thermal cycling & 85º C/85% relative humidity stress testing

Metrology instruments

Film thickness
Particle monitors
Contact angle measurement

Dark & bright field microscopes